To keep you informed, we wanted to provide an update on Merit's efforts to remain proactive and prudent regarding the developing Coronavirus situation.
What actions is Merit taking regarding the supervision and monitoring of my investments?

Our investment team is reviewing the markets constantly to provide your advisors with the most up-to-date information. They continue to keep their eyes on the long-term strategy. We feel certain this volatility (both the ups and the downs) will likely continue to some degree for the foreseeable future. We will continue to keep you updated directly through both email and video. I have the utmost confidence in our investment team's ability to navigate us through these rough waters. It is important to remember this is not the first time (and likely not the last) that a major illness has brought our financial markets into a state of flux. In looking back at those notable past viral outbreaks such as SARS, Avian Flu, Swine Flu, MERS Coronavirus, Ebola, Zika, the market has a history of recovering nicely (see chart below).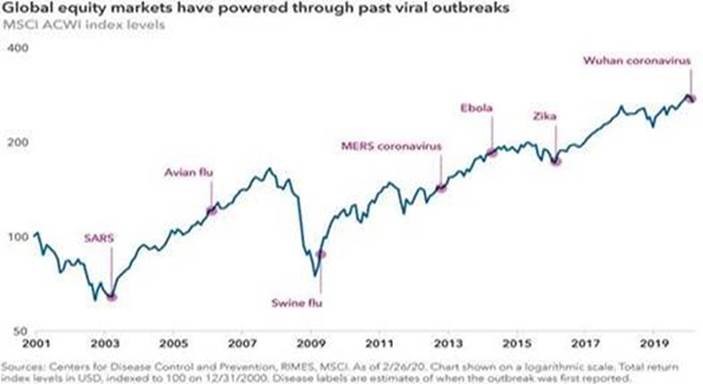 How is your team working together to support my advisor during this period of volatility?

Our team's goal is to make sure your advisor remains readily available to address any questions or concerns you have. Your advisor has been working long hours to make sure you are in the best possible position. One of your advisor's many roles is to help you not make decisions based solely on emotion. They truly care about you and your family and please know, you continue to be in the best of hands. They are sitting in on our regular calls with the investment team and they are participating in group decision-making as it pertains to overall strategy. Think about it this way; at Merit, you don't just get one advisor looking after your money, you get an entire investment team and a team of 20 other advisors! In total, we have 80 people on the Merit team that are here to serve you. Rest assured, your advisor has an army behind them!
What is Merit doing to keep me safe and healthy?

Our team knows, if they are sick, they are not to come into the office. We are disinfecting our conference rooms between each meeting. We can even offer a virtual meeting to any of our clients that would prefer to meet from the comfort of their homes.
Where are the opportunities?

We have no doubt this market correction will present a few investment opportunities. As with any market shock, it is important to understand where we are in the cycle, and from our perspective we are still in the early stages of this event. As such, we suggest patience and perhaps a conversation with your advisor to determine where opportunities may exist, once the time is right.
Is there anything I should be doing?

If you are currently taking distributions from your investments, now may be a good time to re-evaluate the percentage(s) you are actively withdrawing with your advisor. While markets are down, it can sometimes be prudent to postpone or reduce distributions for non-essential expenses. Reviewing your financial plan is an important conversation for you to have with your advisor.
I have friends and family who are worried about their financial life. Is there anything you can do to help them?

It is during times like these that financial planning and communication becomes so important. If you have friends, family or colleagues that are worried about their financial situation, our advisors have a process we refer to as the "Second Opinion Meeting. During a "Second Opinion Meeting," your advisor will sit down with someone for the first time and provide them with a report card and some suggestions; all at no charge. We are here to help, so if you know someone that could benefit from this, please send them an email and copy your advisor. Simply mention the "Second Opinion Meeting" in the body of the email, and we will be happy to reach out to them to schedule.
You remain our focus and priority and we take our job of serving you very seriously. On behalf of the entire Merit team, we are grateful for our relationship and the trust you have placed in us.
Warm regards,
Rick Kent and The Merit Leadership Team
Securities offered through LPL Financial, member FINRA/SIPC. Investment advice offered through Merit Financial Group, LLC, an SEC registered investment adviser. Merit Financial Group, LLC, Merit and Merit Financial Advisors are separate entities from LPL Financial.