February 2020 Market and Strategy Update
After setting all-time high levels this month, stocks reversed course as coronavirus concerns begin to hit both economic and corporate earnings forecasts. The growing fears surrounding coronavirus added to an expanding recognition that global economic activity is slowing. In some respects, equity markets seemed to defy gravity over the past several quarters, marching higher in the face of this global economic slowdown. With a return over 31% in 2019 and a 5% jump to start 2020, it seemed inevitable markets were due for a correction.
The Merit investment process begins with an evaluation of the investing landscape, taking into consideration factors such as economic growth, credit availability, valuations and the potential for equities to meet our long-term return projections. Coming into 2020, our outlook called for a more challenging return environment than was seen during the previous year. In August of 2019, we began to reduce the risk profile of our equity models for the first time in several years as valuations became stretched and data pointed to slower growth ahead. In the months to follow, markets disregarded the warning signs and marched 10% higher. We took the opportunity to rebalance our models again this month and took an additional step to limit downside capture for our equity models.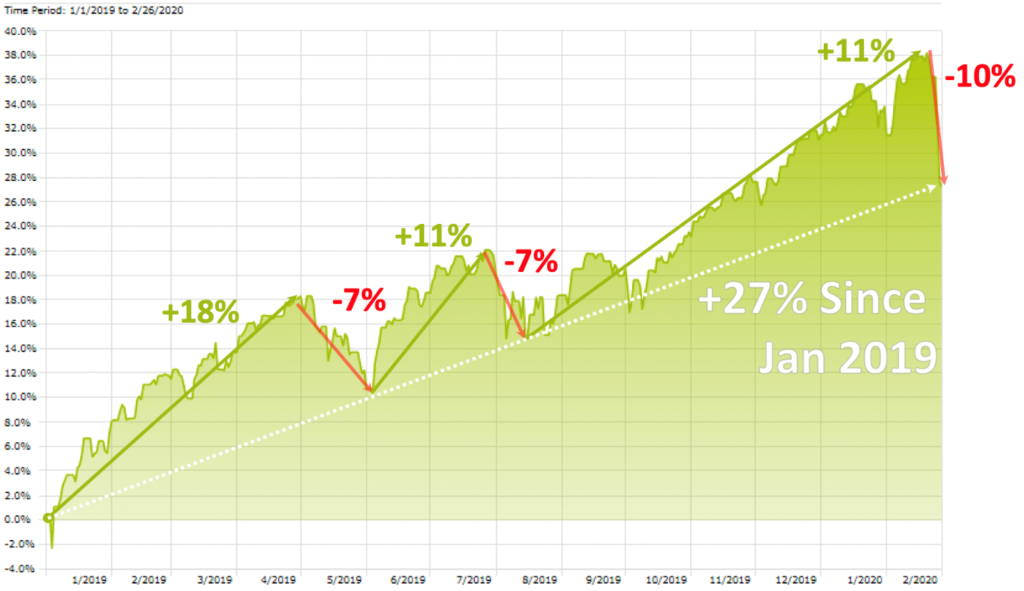 While a stock market correction is emotionally challenging, it is expected to occur from time to time. As long-term equity investors, it is necessary to strip out emotions from our decision-making process while recognizing the improbability of timing short-term market movements. This allows for a fully objective view of the opportunities such as dislocations can create. Markets may continue to decline as earnings models reset to this new reality. The possibility for markets to over-correct exists, creating a good opportunity to increase exposure to the most undervalued segments of the market at attractive prices. For now, we intend to keep or extend our defensive posture as investors wrestle with the uncertainty.
Expect continued updates from the Merit investment team as the situation develops. We sincerely appreciate your trust in our team and investment process. Feel free to reach out to our team should you have any questions regarding our views of the markets or our strategy.
Securities offered through LPL Financial, member FINRA/SIPC. Investment advice offered through Merit Financial Group, LLC, an SEC-registered investment adviser. Merit Financial Group, LLC and Merit, are separate entities from LPL Financial.
The economic forecasts set forth in this material may not develop as predicted and there can be no guarantee that strategies promoted will be successful.
Content in this material is for general information only and not intended to provide specific advice or recommendations for any individual. All performance referenced is historical and is no guarantee of future results. All indices are unmanaged and may not be invested into directly.
Internationally investing involves special risks such as currency fluctuation and political instability and may not be suited for all investors. These risks are often heightened for investments in emerging markets.
There is no assurance that the techniques and strategies discussed are suitable for all investors or will yield positive outcomes. The purchase of certain securities may be required to affect some of the strategies. Investing involves risks including possible loss of principal.