Introduction
At the end of each year, the Merit Investment Team reviews happenings from the past year, offers perspective on the year to come, and formulates the resulting potential strategy changes.  Both stock and bond markets marched forward in 2019, crushing many investor expectations.  The S&P 500 Index rose 31%, about three times the expected annual rate of return for stocks.  As a result of this meteoric rise, many questions begin to surface as we look to 2020.  Can this upward momentum continue?  How stretched can valuations become before investors lose faith?  Where are our dollars best allocated to maximize the opportunity for future returns?  We will discuss these crucial questions in the paragraphs below.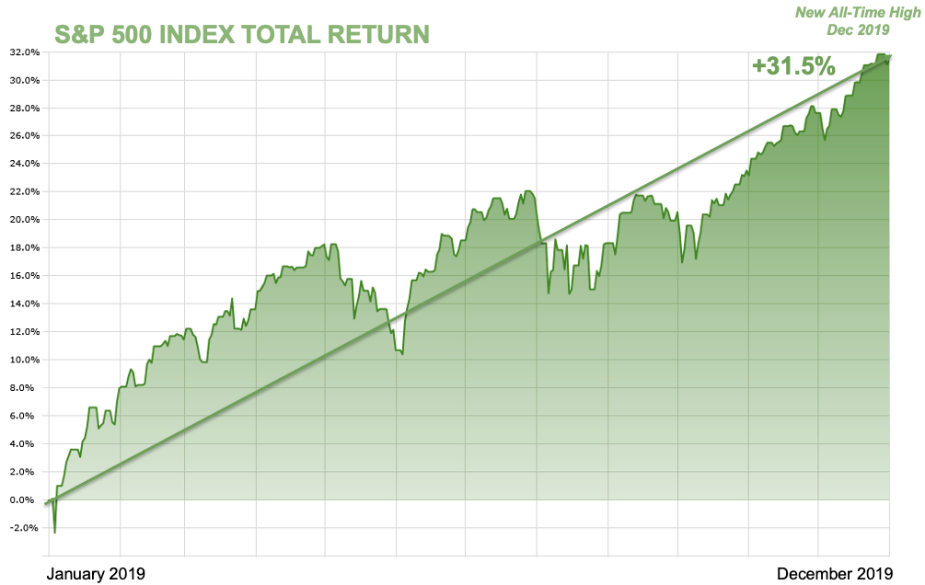 US Economy
The US economy showed mixed signals in 2019. We saw business investment decline as corporations seek to reduce costs and maintain profitability. Further, the lack of investment has drained manufacturing activity, thus pushing the industry into contraction. However, neither of these issues seem to have materially affected the consumer. The labor market remains tight and hiring strong. Personal consumption continues to be the primary driver of real GDP6 growth in the US.
Manufacturing generated the most concern among economists as the industry group's economic activity began softening and is now contracting at the highest rate since 2009. This weakness in the industry has been a focus for many headlines throughout the year but has not fully translated to a reduction in consumer spending, up to this point. A large reason for this is the shifting dynamic of the US into a predominantly services-based economy. For decades, manufacturing was by far the largest contributor to economic activity in the US. In 1970, the industry contributed 23%7 to overall GDP. As of Q3 2019, manufacturing comprised 11% of overall GDP, which was a third behind real estate and government spending. The weakness in manufacturing had less of an impact compared to years past, but it will remain a key data point to monitor in the coming months.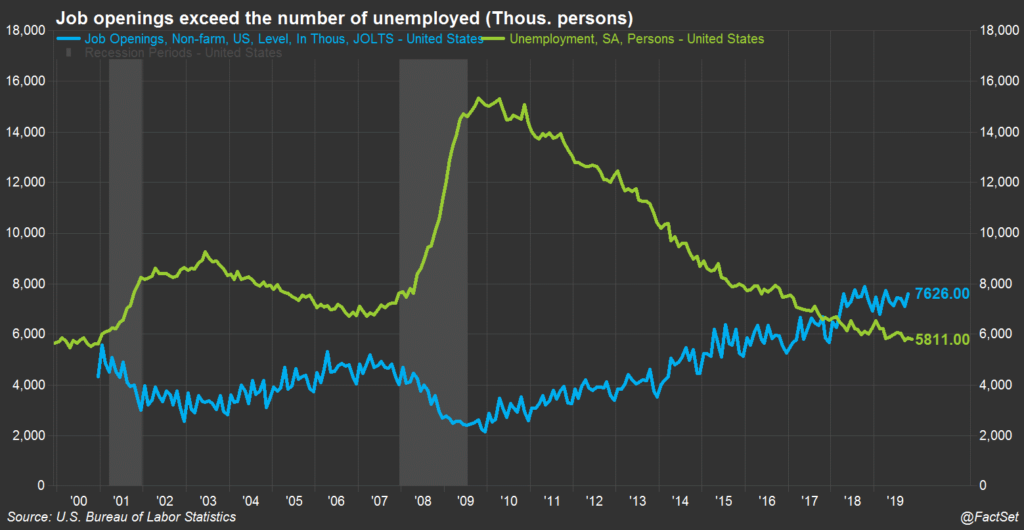 The consumer remains the bright spot and driving force behind the economy. The overall tightness in the labor market has also been a large contributor. Job openings currently exceed the number of unemployed job seekers. This is reflected in the unemployment rate which is currently at 3.5%7, the lowest since 1969. As job seekers are afforded more opportunities, hiring qualified labor will become more competitive, which may increase the rate of wage growth. The consumer stands to benefit from higher wages, but an adverse effect could be higher inflation. Although higher inflation isn't currently an issue in this slower growth environment, we remain mindful of the harm that higher inflation could bring to the economy.
Overall, the US continued the longest economic expansion on record. US real GDP growth slowed in 2019 but remained positive. Labor, manufacturing, and trade will all continue to be important factors for the US going into 2020. Any shifts in the data could dramatically change the trajectory and expectation of the economic output. With the current data, economists are projecting GDP growth to slow through 2021, as the business cycle continues to mature.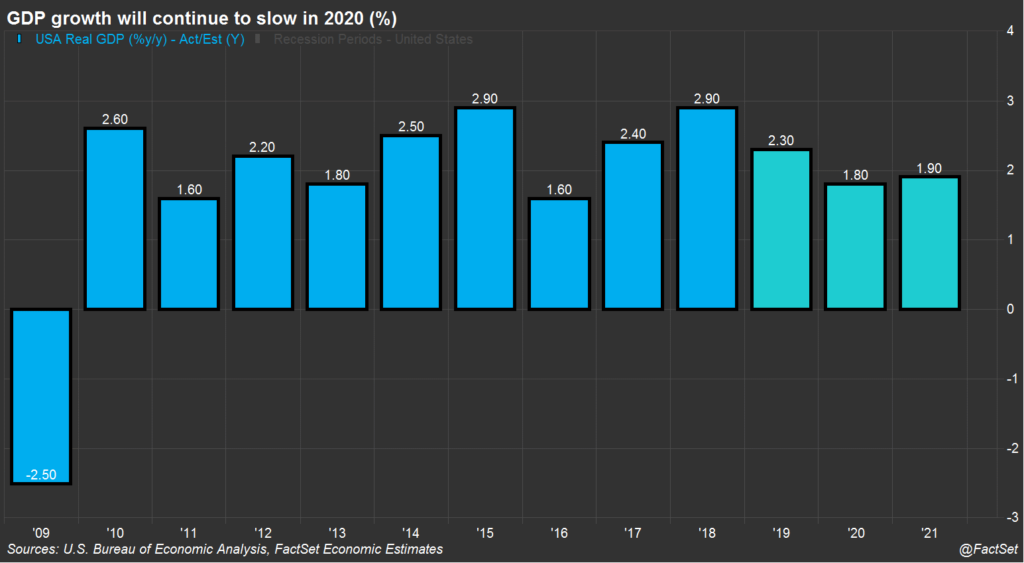 Corporate Earnings
US corporate earnings were more challenged through 2019 than in recent years. Stellar earnings growth was seen in 2018, largely due to the tax law changes that provided fiscal stimulus. In 2019 we began to see declines in earnings per share1 (EPS) for three consecutive quarters from companies in the S&P 500 Index.
Geopolitical uncertainty continues to be a major concern. Tariffs have contributed to rising costs, particularly for corporations that maintain a global footprint. While top-line revenue increased by 2%, the reduction in EPS contributed to a decline in operating margin2.
Although 2019 earnings were lackluster, the US equity markets returned over 30% for the year. Much of the returns for the year were attributable to price multiple expansion. The S&P 500 started the year with a price-to-earnings3 (P/E) ratio of 16.8x4 and finished at 20.5x5. Essentially, investors have been more willing to pay a higher price multiple for equities based on the potential of improved fundamentals in the short-term. Two key factors that helped drive this sentiment include:  1) falling interest rates, which reduce corporate borrowing costs and 2) the recent prospects of a partial trade deal.
US corporations continue reflecting positive fundamentals, such as double-digit profit margins and adequate debt service coverage. However, given the late stage of this business cycle and the geopolitical landscape, we expect earnings growth to remain relatively flat throughout 2020.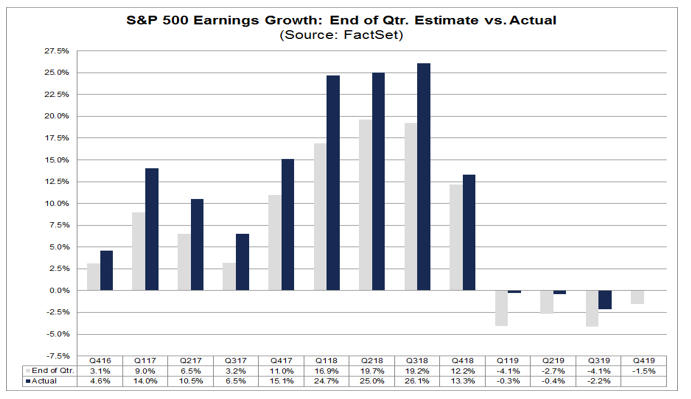 Trade
US-China trade relations remain a primary area of concern. The dispute between the two countries continues to weigh heavily on the global economy. We do not expect a full resolution in the near-term, despite the mid-January phase one deal. The details of the phase one deal have not been fully confirmed. According to media sources8, China will be expected to increase purchases of US goods by $200 billion over the next two years, with nearly $40 billion in agriculture. China is also expected to increase protections of intellectual property. The US has agreed to hold off the additional tariffs originally planned for December 2019 and reduce a portion of what has already been implemented. A vast majority of Chinese goods subject to tariffs will be unaffected by this deal and likely used as leverage in future talks.
The trade dispute has caused Chinese import costs to rise and companies to seek alternative sources. China remains the US's largest source of imports, but other trade partners stand to benefit, particularly in developing nations. Vietnam had the largest percentage increase in exports to the US, over 30% from 2018-2019. Technology companies began shifting manufacturing operations to the Southeast Asian country last year. Chinese trading partners, such as Brazil, also have benefited. Brazilian exports of soy beans to China surged since 25% tariffs were implemented on US agricultural products in 20189. Soy exports may shift back in favor of the US due to the phase one deal but it is not yet clear if Chinese soy importers are willing to do so10.
The phase one deal is a step in a positive direction but we do not expect a full resolution this year. Once the deal is signed, the Trump Administration will likely turn its full focus to the 2020 elections. Meaningful negotiations would continue after November, assuming re-election.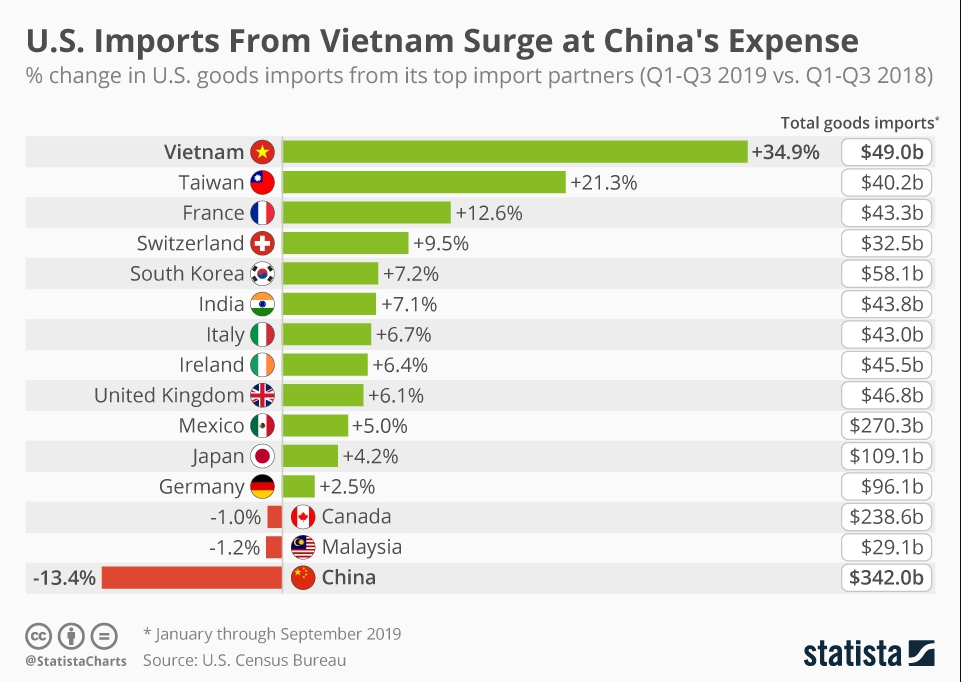 Impeachment
President Trump became the 3rd President in history to be impeached, facing allegations of obstruction of Congress and abuse of power. However, the markets showed little reaction to the news and continued to set all-time highs in the month of December. Instead, investors focused more on recent positive developments, such as optimism surrounding trade negotiations with China and the North American trade agreement between Canada, Mexico and the US. These developments are major victories for the Trump administration and may help to boost economic activity and corporate earnings.
Moving forward, we expect minimal impact on the markets due to the impeachment and trial to follow.  Market performance during past Presidential impeachments had mixed results. During Clinton's impeachment, markets rose 23% as the economy was in the midst of the ".com boom."  For Nixon, the market fell 32%, caused primarily by high inflation. The market performance was a result of the economic state and not the state of politics, and we expect the same to be the case during Trump's impeachment trial.
2020 Election
2020 is an election year and we expect an intense battle for the Presidency. There are a multitude of Democratic candidates vying for the opportunity to challenge President Trump to become the 46th President. Out of that multitude, three stand out as the most likely nominees:  Joe Biden, Bernie Sanders and Elizabeth Warren. Elizabeth Warren and Bernie Sanders stand on the more liberal wings of the party, calling for a single-player health care system while pushing for higher taxes on the wealthiest Americans. Joe Biden, a more moderate Democrat, prefers a more tempered approach, focused on formulating bipartisan solutions that seem more practical. Either way, a Democratic President would mean a less-friendly environment for Wall Street and large corporations as they gear their economic policies to benefit low to middle-income families. No matter the outcome of the Presidential election, the Merit investment process will stay focused on our long-term objectives while analyzing important economic data aiming to ensure we are positioned to manage those objectives.
Brexit
Prime Minister Boris Johnson's Withdrawal Agreement passed its second voting on Dec 20th, 2019 by a majority of 124 votes. This bill is a draft of the European treaty that will be sent to the EU.  If accepted by parliament, the UK will formally leave the EU on January 31st, 2020, leading to a year-long transition period.
Within this transition period, many things will need to be redefined, such as trade relations, immigration, and employment regulations.  These new changes will be pivotal for the future growth of the UK as they are risking free trade and access to business investment within the European Union. This transition period will conclude at the end of 2020 with a trade deal, or not, between the European Union and the UK.
With the outcome of Brexit being uncertain, the growth outlook for the UK has dimmed. Britain's growth has slowed from 2.4% in 2015 to 1.5% in 2018. However, this softness in growth has taken place in multiple European nations. For instance, the EU's largest economy, Germany, is set to slide into a recession thanks to a continued decline in its manufacturing sector as well as lackluster global auto sales. For this reason, we will examine our exposure to developed nations with low growth and investigate investment opportunities in emerging markets as described below.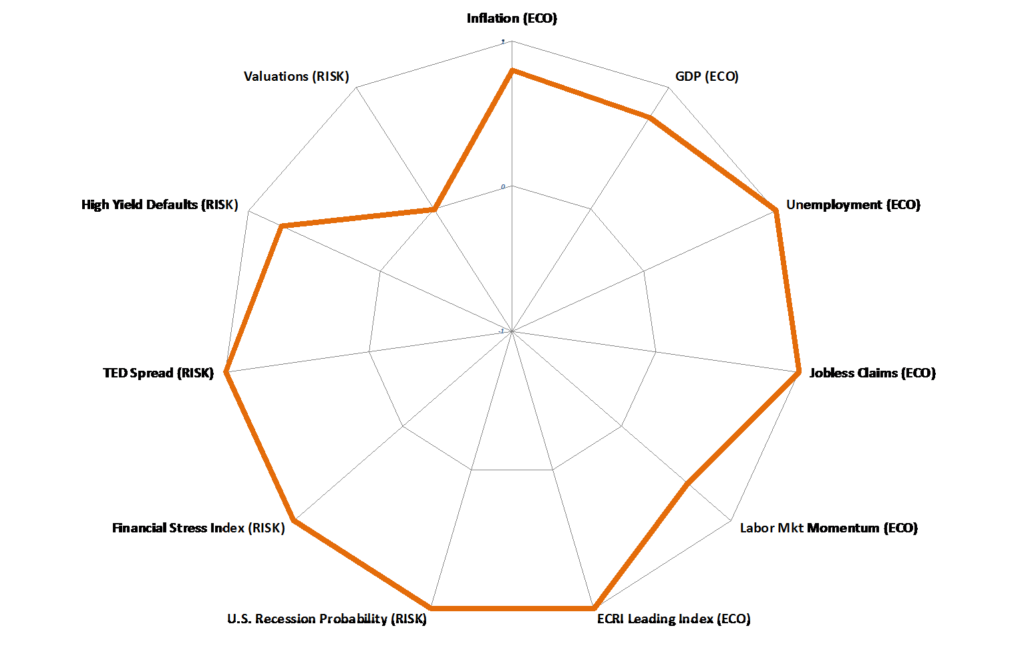 Strategy Overview
Despite a slowing global economy and trade tensions with China, there remains little evidence of financial system risk on the immediate horizon.  Credit markets continue to function normally with the support of low interest rates and healthy demand.  Global central banks continue to practice fairly loose monetary policies in hopes of limiting the depth of economic slowdown.  To date their intentions are proving effective; however, one must question the sustainability of this model long-term.  We expect little to change regarding the current loose monetary policies in 2020 which should benefit risk assets. 
The focus on price stability remains our top priority for core fixed income investments. A small amount of price decline in the bond market has the real possibility of wiping out an investor's expected return from yield in this low interest rate environment. As a result of this increased fixed income volatility, our team has limited exposure to duration risk (interest rate sensitivity), preferring the current price stability seen today from short term and floating rate debt. Corporate bond default rates remain below 3%, which points to a constructive operating environment for businesses. We are anticipating very little change to the overall positioning of our core fixed income investments for the first half of 2020, assuming the credit environment remains constructive. An increase to U.S. Treasury Bonds may be needed if the risk of bond defaults rise.
For our longer-term investments in stocks, there are many research wheels in motion.  Shares for US companies have been the overwhelming favorite amongst investors for the last decade, leading to stretched valuations and lower dividends.  Opportunities have been presenting themselves abroad, with emerging market stocks having the most appeal.  Positive demographic trends coupled with attractive valuations and growing momentum led our team to increase our weight to stocks outside of America in 2019.  Many factors in 2020 will play a part in determining whether investors growing enthusiasm for international stocks continues, among them trade talks with China.  Regardless, companies are on notice that manufacturing and distribution networks must be diversified to other locations, which will likely benefit other emerging countries with cheap labor.  Our team is continuing to see positive signs that a heavier allocation to these opportunities is warranted.
Conclusion
We are grateful and humbled by the trust you have placed with us and our investment team.  We continue to invest resources back into our process, adding tools and personnel to aid in improving our efficiency, timeliness and research.  As always, feel free to reach out to any of our team members should you have questions regarding our strategy or outlook.
Securities offered through LPL Financial, member FINRA/SIPC. Investment advice offered through Merit Financial Group, LLC, an SEC Registered Investment Advisor. Merit Financial Group, LLC, Merit and Merit Financial Advisors are separate entities from LPL Financial. Tracking Number: 1-938342. The economic forecasts set forth in this material may not develop as predicted and there can be no guarantee that strategies promoted will be successful. Content in this material is for general information only and not intended to provide specific advice or recommendations for any individual. All performance referenced is historical and is no guarantee of future results. All indices are unmanaged and may not be invested into directly. Internationally investing involves special risks such as currency fluctuation and political instability and may not be suited for all investors. These risks are often heightened for investments in emerging markets. There is no assurance that the techniques and strategies discussed are suitable for all investors or will yield positive outcomes. The purchase of certain securities may be required to affect some of the strategies. Investing involves risks including possible loss of principal.