Market Update – Week of March 16th
As news continued to flood in last week, market participants did their best to judge the long-term impact of every single morsel which led to quite a volatile environment.  The news wasn't all negative as 2 of the 5 days posted large gains.  In fact, Friday March 13th was one of the best 1-day gains for stocks on record.  Despite closing on a positive note, the week ended with losses for stocks across the globe.
Coronavirus vs 9/11 vs Mortgage Crisis of 2008
The coronavirus pandemic has a similar feel economically speaking to the terrorist attacks on September 11th, 2001 here in America. A sudden shock to the transportation and travel networks that our global economy relies on was suddenly shut down, with cascading effects to many different industries. During the early stages of the 9/11 crisis, investors began liquidating stocks and bonds in fear of the financial system fallout – very similar to what we are experiencing today.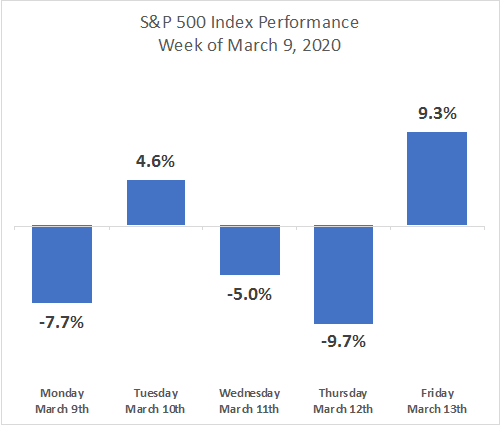 This is different than what the US economy experienced during the financial crisis of 2008. The sub-prime crisis which began in 2006 originated within the financial system, and like a virus infected many areas of our economy leading to distrust in the financial system as a whole. Whether the economic shock we are experiencing today leads to a longer-term financial system crisis cannot be known at this stage. However, we made changes to the fixed income portion of our client accounts last week as a precautionary step and stand ready to take additional steps should conditions worsen.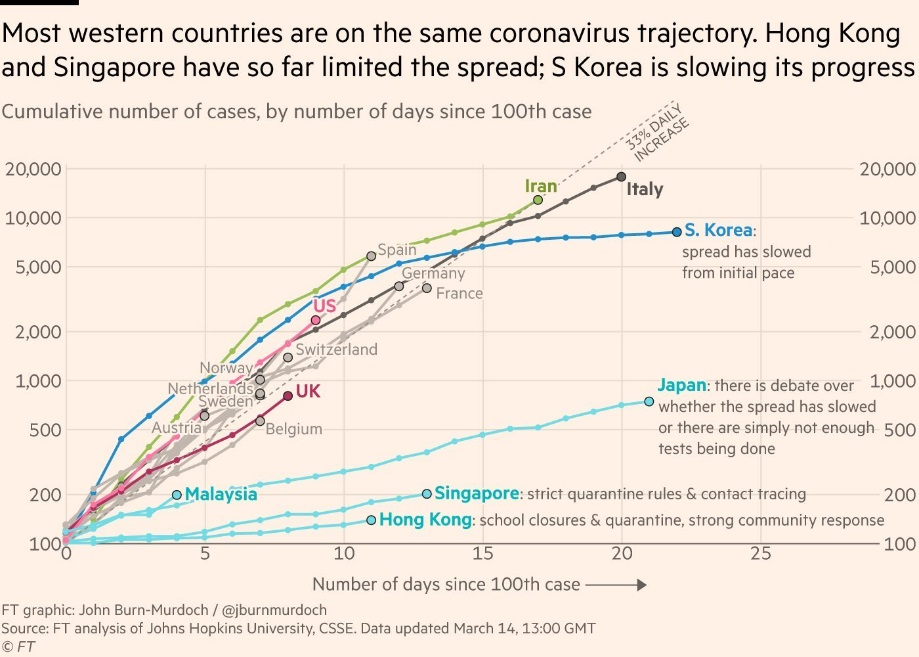 Outlook and Strategy
Our internal investment team makes high-level risk appetite decisions based on the investment landscape. There is a good chance this crisis leads to a recession should businesses struggle to regain pre-crisis sales volumes by the summer. We have begun to think strategically about what risks we want to avoid, and also which market reactions are overdone and present an opportunity for our clients. It is too early to determine how long and how deep this shock will be as we are in the early innings of what could be a long game. However, we have already established investment themes for several different scenarios as we move into the spring.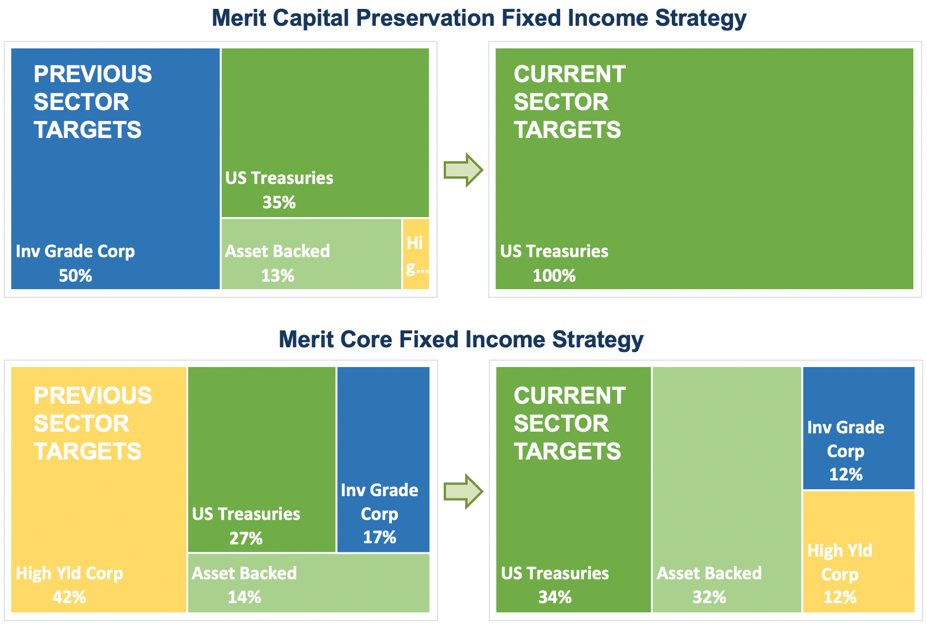 There are reasons to expect the US economy will come out the other side of this crisis without too much long-term damage. Just a few of our thoughts this week as to why the damage may not be as bad as some fear:
Worldwide governments are about to unleash a massive amount of assistance to businesses and consumers. The Federal Reserve announced Sunday it would reduce the Fed Funds rate to near zero.
Stocks are down 20% from all-time high levels, indicating some of the future economic damage may have already been priced into the markets.
Even after the market correction is taken into consideration, consumers on average are on a strong financial footing with savings balances, net worth and real property values close to all time high levels.
We will keep you informed on our latest thinking and portfolio recommendations on a weekly basis until further notice. We are grateful and humbled by the trust you have placed in your advisor and our investment team. As always, feel free to reach out to any of our team members should you have questions regarding our strategy or outlook.
Securities offered through LPL Financial, member FINRA/SIPC. Investment advice offered through Merit Financial Group, LLC, an SEC Registered Investment Advisor. Merit Financial Group, LLC, Merit and Merit Financial Advisors are separate entities from LPL Financial.
The economic forecasts set forth in this material may not develop as predicted and there can be no guarantee that strategies promoted will be successful.
There is no assurance that the techniques and strategies discussed are suitable for all investors or will yield positive outcomes. The purchase of certain securities may be required to affect some of the strategies. Investing involves risks including possible loss of principal.