November 2020 Market Update
While we may not have a declared winner to the 2020 Presidential contest as of November 4th, we have the needed information to begin positioning our portfolios for the year to come. As of this writing, it appears congress will remain divided, with Republicans retaining control of the Senate. This may prove to be a more important factor than which Presidential candidate wins. Because it is more difficult to make sweeping changes, markets typically prefer a split congress through history. With a divide, business operators can more effectively move forward with their growth plans without fear of the rules changing. This preference was clearly seen the day after election day with markets up close to 3% despite not knowing who would become our nation's next President.
Technology and health care stocks were the biggest benefactors post-election day as those two sectors were expected to be hit the hardest if democrats came away with a sweep. This was a welcome sign given these two sectors are among our most favored investment themes long-term.
Even if the Democrats were to take control of the white house and congress, we believe the negative economic impact of tax hikes would be largely offset by the strength of our current economic recovery and additional stimulus. Manufacturing statistics we monitor are well in excess of expectations, driven in large part by renewed demand from consumers coupled with extremely low inventory levels across a wide variety of industries. We believe this restocking of America will act as a tailwind for the economy in 2021, pushing earnings growth above 20% next year.
Taking a step back, an analysis of stock market returns during past presidential cycles shows that on average stocks have risen no matter who controls the white house. While this backwards-looking analysis cannot predict whether stocks will be higher four years from now, it does lend support to our opinion that changes in political power only affect results on the margin and rarely ever change the course of the market or the economy. We firmly believe this time is no different.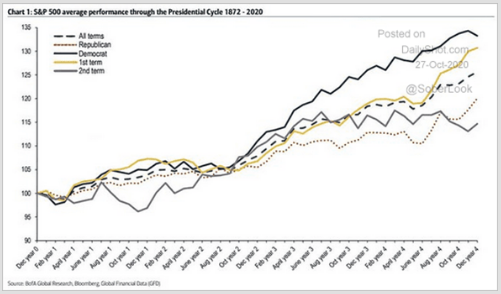 Expect continued updates from the Merit investment team as this situation develops. We sincerely appreciate your trust in our team and investment process. Please reach out to our team should you have any questions regarding our views of the markets or our strategy.